Head onto the Secret Hellpath and reap precious rewards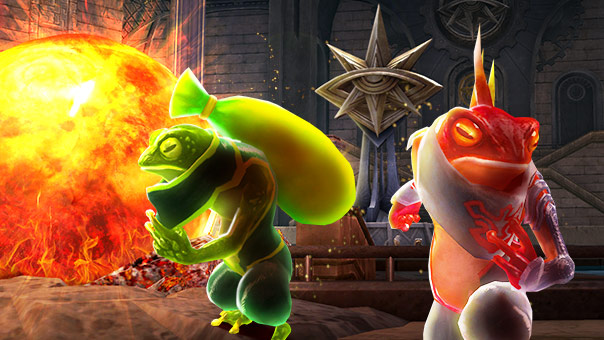 Running: 18/3 to 08/4
Entry: level 76 or higher
Attention, Daevas! During a clear and starry night, a glowing cosmonite raced across the sky and crashed down over Dumaha. Aside from its mineral payload, the cosmic rock also bore a curious species through space: the Gurriki!
Theorunerk is a Shugo who has dedicated himself to examining cosmonites. He's presently over in Dumaha. He set out to investigate this latest cosmonite impact, and met a Gurriki commander who told him of Quaki and Quako. These two fiends have stolen precious valuables and fled along the Secret Hellpath.
Follow the Gurriki minions, teach them a lessen, and enjoy rewards for your assistance such as the Transformation Contract: Kaisinel, [Rune] Daevanion Essence, the Ultimate +10 Dumaha Weapons Selection Box of the Mighty and many more.
Here's how it works:
Enter the Secret Hellpath and transform into a warrior with special abilities. The path will be reset at 9:00 AM every day.
Some of the enemies you defeat will drop 'Energy of Protection'. Make use of the event currency to improve your abilities and build defensive weaponry.
Gurriki meteorite will drop the Titania Hammer amongst other things, which can be used to refine cosmonites. The materials you gain by doing so can be exchanged for rewards.
Game Levels
After defeating multiple waves of enemies, one of the two fiends will appear. If you manage to defeat them, you'll receive a final reward which depends upon your level:
Level S → You receive 200,000 AP if you have more then 10 minutes remaining and earned at least 500,000 points.
Level A → You receive 160,000 AP if you have more then 7:30 minutes remaining and earned at least 220,000 points.
Level B–F → You receive no AP if you have less then 7:30 minutes remaining and earned fewer than 220,000 points.
Gurriki
The two minions Quaki and Quako drop different items and have different chances of appearing:
Quaki has a very high chance of appearing in the Secret Hellpath. He drops 3x [Event] Lodas' Silver Star and has a chance to drop 1x Titania Hammer.

Quacko: Appears with a low probability inside the Hellpath. Will drop guaranteed 3x [Event] Lodas' Silver Star and 1x [Rune] Titania Hammer.
Aside from Quaki and Quako, there's another Gurriki on the Secret Hellpath, but he's a friendly critter:
Quacks will sell you the [Event] Incognito Key which can be used to open prison doors behind which you'll find additional Energy of Protection. The keys can be purchased in bundles of 3 (hold shift and use the right mouse button to adjust the amount).
Titania Hammers
Titania Hammers can be used to extract Cosmo Corns and Cosmonite Bundles from cosmonites.
If you use 1 Titania Hammer, you'll receive 1 Cosmo Corn and 1 Cosmonite Bundle.
If you use 20 Titania Hammers, you'll receive 20 Cosmo Corns and 22 Cosmonite Bundles.
Once you have 50 Cosmo Corns, you can exchange them for valuable items from Theorunerk.
Need some more Titania Hammers? Then pay a visit to the AION Shop, you'll find the item there.
Rewards
You can find a list of rewards here.
Please note: All event items will be removed from the game one week after the event is over.