Plunge Into the Cool Water and Fetch Some Buffs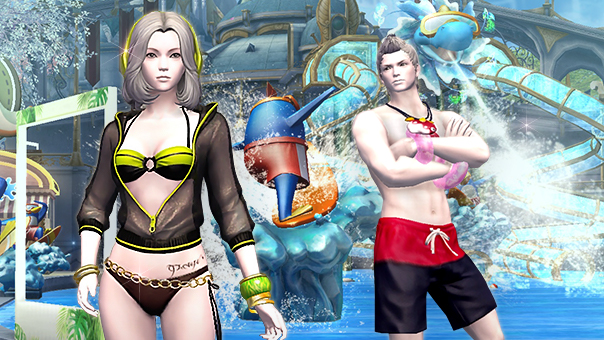 The summer is really hot even in Atreia! The Daevas, are thus excited about a refreshing cooldown in the water parks of Pandaemonium and Sanctum. The parks have a variety of activities for everyone, so that Atreia's heroes can have fun and enjoy some well-deserved relaxation.
Running: 27th July to 31st August
Activity 1: The Grill Banquet
Daevas attending the Grill Banquet can pick up strong buffs. Only one buff from one dish and one drink can be active. Each buff provides the corresponding advantages for 30 minutes after activation.
Broiled Meat: This dish increases your HP by 900, your MP by 630 and your crit strike by 450 points.
Plate of Vegetables: This dish increases your HP by 900, your MP by 630 and your crit spell by 450 points.
Golden Drink: This drink increases your natural HP regeneration by 32 and your natural MP regeneration by 43 points.
Activity 2: The Entertainment Programme
The water park has a wide range of entertainment activities:
Rent a summer outfit from Starrinerk (the costume is discarded when you leave the capital).
Click fun pictures at the water park.
Play with fun beach balls, swimming rings and palm trees.
Put on a colourful fireworks display.
Activity 3: Making Bingsu
Bingsu is a traditional dessert with sweet red bean paste and ice shavings – the perfect treat on hot days at the water park! Indulging in a portion of Bingsu increases the hunting XP by 60% for 30 minutes.
Step 1: Complete the daily 'Just a Glass' NPC quest and get [Event] Syrup and [Event] Red Beans.
Step 2: Look for ice cream in the water park to get the [Event] Sugar Snow for your dessert recipe.
Step 3: Combine the three ingredients in your inventory and your Bingsu is ready!
Activity 4: The Ultimate Cooldown
Jump into the swimming pool at the water park and enjoy the ultimate cooldown. It's not just refreshing; you also automatically get some experience.
Please note: The items [Event] Bingsu, [Event] Sugar Snow, [Event] Syrup and [Event] Red Beans will be removed from the game after the event is over.