Fight wearing completely enchanted equipment and earn precious rewards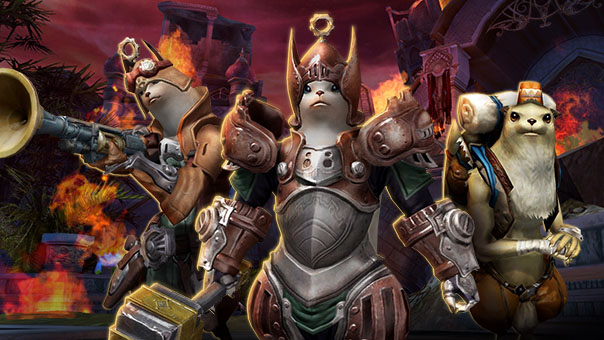 During the Battlefield Festival, you will face your enemies in 'boosted' Battlefield instances – this means double entries and you will earn more Battlefield Coins for your participation! You can also borrow completely enchanted equipment to help you really give it to your enemies.
Throughout the event you can earn Battlefield Festival Coins, which you can exchange for treasures like the Legendary Fragment of Memory, the Daevanion Essence Bundle, Vaizel's Apostle Transformation Fragment and many other great items!
Running: 20/4 to 4/5.
Let Your Hero Benefit
In the Battlefield instances Ashunatal Dredgion, Runatorium, Neviwind Canyon, Kamar Battlefield, Raging Valley and Illumiel you receive various extras and can borrow equipment:
Ultimate Transformation: Boronerk is offering you a free ultimate transformation of your choice. It lasts for 30 minutes – even after dying – but will be removed after leaving the battlefield. The Buff Master minion function removes the transformation, however, so make sure you've deactivated it.
Ultimate Spiked Equipment Chest: For some Kinah, Lisnerk will lend you completely enchanted equipment in the mentioned instances. The chest contains two weapons with already fused stats and equipment for your class. The equipment will be removed after leaving the battlefield.
Boosts in the Instances: In the instances listed above, you can get more Battlefield Coins for your victory, defeat or draw – plus you can enter more often! Check out the Battlefield Overview to see all details about the instances at a glance.
Battlefield Coins: The Battlefield Coins you earn can be exchanged with Beatinerk for amazing prizes. You'll find him near the Battlefield Briefing Officer Shamichael in Inggison or the Battlefield Briefing Officer Skamish in Gelkmaros.