Celebrate the 12th Anniversary of Your Favourite Game with Us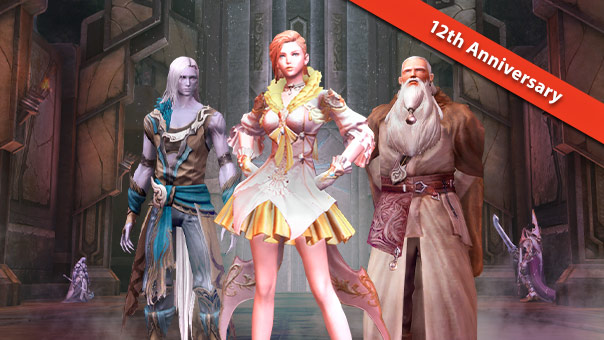 AION's 12th anniversary is just around the corner, and we have a bunch of exciting new events lined up for you – enjoy weeks full of action and amazing loot! It starts today with The Ancient Prophets event – followed by three more fantastic events which all take place between 15/9 and 29/9:
The Battlefield Festival
The Dreamscape Event
The Anniversary Hero Trials
The Ancient Prophets
Running: 8th September to 29th September
Experience a worthwhile quest series where you can collect 5 exclusive costume items which, when combined, give you the 12th Good Tidings Costume Set in celebration of the 12-year anniversary of AION! The variety of content in these quests will have you talking to NPCs, hunting, gathering and duelling in PvP combat.

The Quests of the Prophets
You can find the Ancient Prophets, Pernos and Munin, in the fortresses in Inggison or Gelkmaros. If you accept their quest, you'll begin your search for the 5 costume items – each quest offers you 1 costume item as a reward:
Quest 1: [Event] Pernos' First Gift or [Event] Munin's First Gift
Meet some NPCs and talk to them about the recent news in Atreia.
Quest 2: [Event] Pernos' Second Gift or [Event] Munin's Second Gift
Find the different flower merchants who each sell one of the event flowers. Each merchant is waiting at one of their 4 random locations in Atreia. The merchants change locations every 6 hours. After you've collected all event flowers and combined them to a bouquet, you'll receive the [Event] 12th Anniversary Bouquet.
Quest 3: [Event] Pernos' Third Gift or [Event] Munin's Third Gift
Go on a hunt for certain monsters in the region. The prophet will name your target.
Quest 4: [Event] Pernos' Fourth Gift or [Event] Munin's Fourth Gift
Collect 10x [Event] Aion's Blessing in the region. You can get them from Magic Crystals or Titania in Inggison or Gelkmaros.
Quest 5: [Event] Pernos' Fifth Gift or [Event] Munin's Fifth Gift
Assert yourself in the Battlefield Instances to collect 20x Battlefield Coins.
Please note: The items [Event] Aion's Blessing, [Event] 12th Anniversary Bouquet, [Event] Cacklerose, [Event] Perpetuity Poppy, [Event] Forever Thyme, [Event] Forsake-Me-Not and [Event] Lily of Amity will be removed from the game after the event is over.