Complete the Halloween quests and grab cool rewards!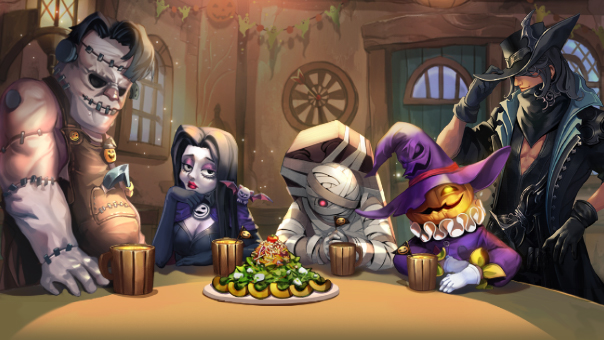 Running: 14/10 to 4/11
Prickly Prigal hides in the shadow of his master, Yu-Meow. This monster works in the shadows and is planning to invade Atreia once again: Prickly Prigal has hoarded mountains of food and fed it to the Halloween fiends Ferocious Bloodwing, Holy Wraith and Sinister Crettin. These fiends are now mounting an assault on the open world and all of the instances. Now the Daevas are the only ones who can put a stop to Prickly Prigal's monstrous plan.
Stop the Halloween fiends and be rewarded with items like [Rune] Selection Box of Halloween Transformation Contracts (4 types), the [Rune] Daevanion Essence and the Mysterious Weapons Selection Box of the Dark Dragon King!
The Halloween Hero Trials
Each week, two different quests become available that each consist of two sub-quests. These can be played at different times:
Sub-quest 1: active from Wednesday 9 AM to Saturday 11:59 AM.
Sub-quest 2: active from Saturday 12 PM to Wednesday 8:59 AM.
In order to complete a quest, you have to stop a certain number of Ferocious Bloodwings, Holy Wraiths and Sinister Crettins from carrying out their awful work. The number of fiends is limited in instances, so you'll have to play through at least twice to be able to complete the quest.
You'll be rewarded once per account after completing each quest. You can find your reward in the AION shop under 'Manage bonuses'.
Additional rewards
If you complete a certain number of hero trials, you can look forward to additional rewards. There are three levels:
20 of 60 quests completed
40 of 60 quests completed
60 of 60 quests completed
Notes
To be able to complete the 'Halloween Challenge', you have to complete all quests with the same hero, otherwise unfortunately it won't be counted towards your total.
The following event items will be removed from the game one week after the event ends: [Event] Clue, [Event] Book of Clues and [Event] Complete Book of Clues.
The quest to fight the Pumpkin Monster is optional. This will increase your total number of quests to 63 in this event.
Have fun!
The AION Team