Win some valuable bundles, boxes and costumes!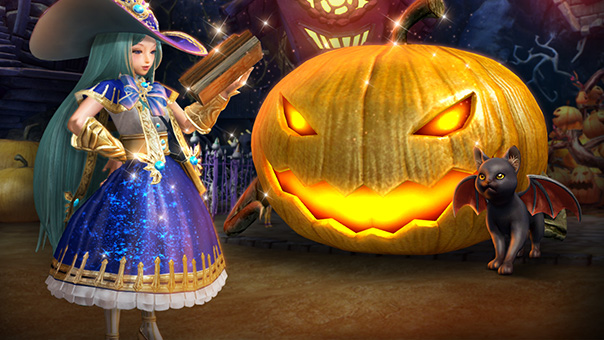 Running: 30/9 to 28/10
Those who have no fear, win! An unnatural mood has swept across all of Atreia – those that can keep their cool now will be able to celebrate, battle and clean up in the Halloween event.
Waiting for you are daily quests, bombastic buffs, exploding pumpkins and impressive rewards like the [Rune] Selection Box of Halloween Transformation Contracts (4 types), the Complete Kumiho Outfit, the Milky Way Priest's Robe and lots more!
Daily Halloween Quests
You can complete a quest daily to earn yourself two Transformation Potions! The two NPCs Esta and Isuta will be waiting for you in the main bases in Inggison and Gelkmaros. Pay them a visit and be rewarded!
There you'll run into Kabe, who also has a task for you. If you complete it, he'll give you 2x [Rune] Basket of Transformation Candy: Halloween.
An Hour of Bombastic Buffs
Get 100% more AP, 20% more XP and a drop rate boosted by 50% for one hour: you can get the buffs by clicking on A Nobleman's Coffin, which appears in the main bases in Inggison and Gelkmaros. Activate your buffs as many times as you like – the only catch is that you cannot renew them when they are active.
Explode the Pumpkins
Your enemies in Inggison and Gelkmaros drop Candy Bombs that you urgently need for your fight against the Pumpkin Kings.
Log in daily and you can get 5 Candy Bombs every 30 minutes. Your hero has to be level 75 and can receive max. 20 Candy Bombs per day.
Hunt the Pumpkin Kings in the instances listed and blow them up with the event bombs – it's the only way to defeat them! Defeat an event boss and you will receive 1 Pumpkin King's Bundle as well as 1 Magic Pumpkin.
Here is a full list of the instances in which the Pumpkin Kings appear:
Lower Udas Temple
Esoterrace
Hererim Mine
Promethun's Workshop (normal and hard)
Makarna of Bitterness (normal and hard)
Stella Development Laboratory (easy and normal)
Beninerk's Manor (easy)
Ara Infernalia (easy and normal)
Rewards
You can details on the rewards and the exchange of Halloween Pumpkins in our reward list.
Alert
The following event items will be removed from the game one week after the event ends.
Magic Pumpkin, Candy Bombs, Pumpkin King's Bundle, Simple Halloween Art Box, Powerful Halloween Art Box, Magnificent Halloween Art Box, Magnificent Halloween Art Box (time-limited)
Milky Way Honour Bundle and Magnificent Milky Way Bundle.
Have fun and a spine-chilling Halloween to you all!

The AION Team