How to report a bot?
Instead of submitting a petition or a ticket to our customer service, we would like to ask you to use the "Report Auto Hunting" option in game.
In order to use this function:
Go to the menu by pressing:

and select "Skills" or you can use the shortcut by pressing K.
You will now see the Skills window. Go to the "Actions" tab, and there you will find the Report Auto Hunting button: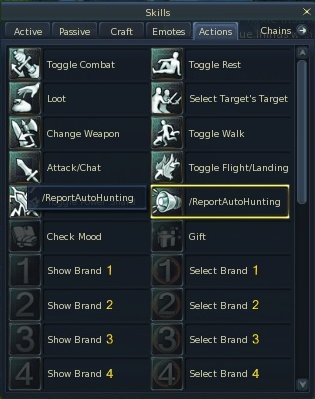 You can drag this button to your skill bar or you can use it from there.
Target the character and click on the Report button (Note: If you have it in your skill bar one click is enough, but if you are using it from the skill window you have to double click it)
You will get a new window asking for confirmation:

Confirm by pressing "OK" and bam! The bot is now in our internal Bot-System and we will go on its hunt!
How to report a Kinahseller?
As with the bots, sending a ticket to our customer support it's not the answer. Instead we need you to block the spammer by using the in game "Block" function, this way it gets reported to us.
This is really simple. You just have to right-click on the character's name in the chat window, click "Block" and confirm with "OK".


Aaaaaaaaaand it's done. You won't be able to read the spam anymore, and the spammer is now reported and in our list of evil spammy chars to ban!
Did you just block the wrong person? Don't freak out! Go to the Menu, then Community, then "Find Friend" (or just press V and save some seconds!) Now go to the "Block" tab, right-click on the character's name and click "Unblock".
The block list is limited, but don't worry. We will remove the spammers that get banned from your block list often.
Note: Keep in mind that if you report a bot/kinahseller it won't disappear immediately, since the system works so that the reports are checked and confirmed, so no legitimate player gets banned for this.